ABOUT
The National Sports Institute of Malaysia (ISN) is excited to bring you the NATIONAL SUMMIT FOR SPORTS PERFORMANCE RESEARCH 2021 (SUMMIT 2021). Due to the current COVID-19 situation, and considering the limitations in keeping physical distancing, this inaugural national summit will be held virtually on the 18th–19th August, 2021, in lieu of an in-person event.
Objectives
To convene and engage the research community and stakeholders (scientific practitioners, coaches and administrators) with a variety of expertise and background, to summarize the state of science, identify research gaps and opportunities relevant to athletes' performance in main targeted sports.
Outcome
The primary anticipated outcome of the SUMMIT 2021 is the identification of gaps and opportunities and subsequently research priority areas to inform research directions in targeted sports.
List of Targeted Sports
Archery

Athletics

Badminton

Cycling

Diving

Hockey

Karate-Do

Rhythmic Gymnastics

Sailing

Shooting

Squash

Swimming

Ping Pong

Weightlifting

Wushu
Before the SUMMIT 2021 (Request for Information)
Before the commencement of the SUMMIT 2021, we sought input from experts and stakeholders on the draft of research gaps and opportunities as well as associated research priority areas to be developed as part of the Summit. The period for collecting these inputs was from 15th July – 31st July 2021.
During the SUMMIT 2021
All proposed research gaps and opportunities as well as associated research priority areas will be read, discussed and ranked in terms of priority by the contributors. All suggestions will be reviewed after the sessions and before the finalized document/list is generated.
After the SUMMIT 2021
The finalized document that contains the gaps, opportunities and research priority areas will be released to all stakeholders and research funding agencies. All parties are encouraged to stay engaged and work towards implementing these proposed research priority areas and present their findings in future National Summit for Sports Performance Research 2023.
What we are looking for
Through this Summit 2021, we seek to collect research priority areas that fulfill (but not limited to) the following criteria:
Research and/or technological advancement focused specifically on improving or analysing performance to achieve marginal gains during competitive events in order to increase the chances of success or winning medals.

Research and/or technological advancement that adds to body of knowledge, in particular those that identify, characterize and/or quantify determining factors/success factors

Research and/or technological advancement that influence/enhance best practices/policies in high-performance sports

Research that adds to the foundation/general body of knowledge in targeted sports
IMPORTANT DATES

The deadline for submitting the PROPOSED RESEARCH PRIORITY AREAS FORM is Aug 8th, 2021.

The form can be downloaded at :

Please send your completed form to : [email protected]
PROGRAMME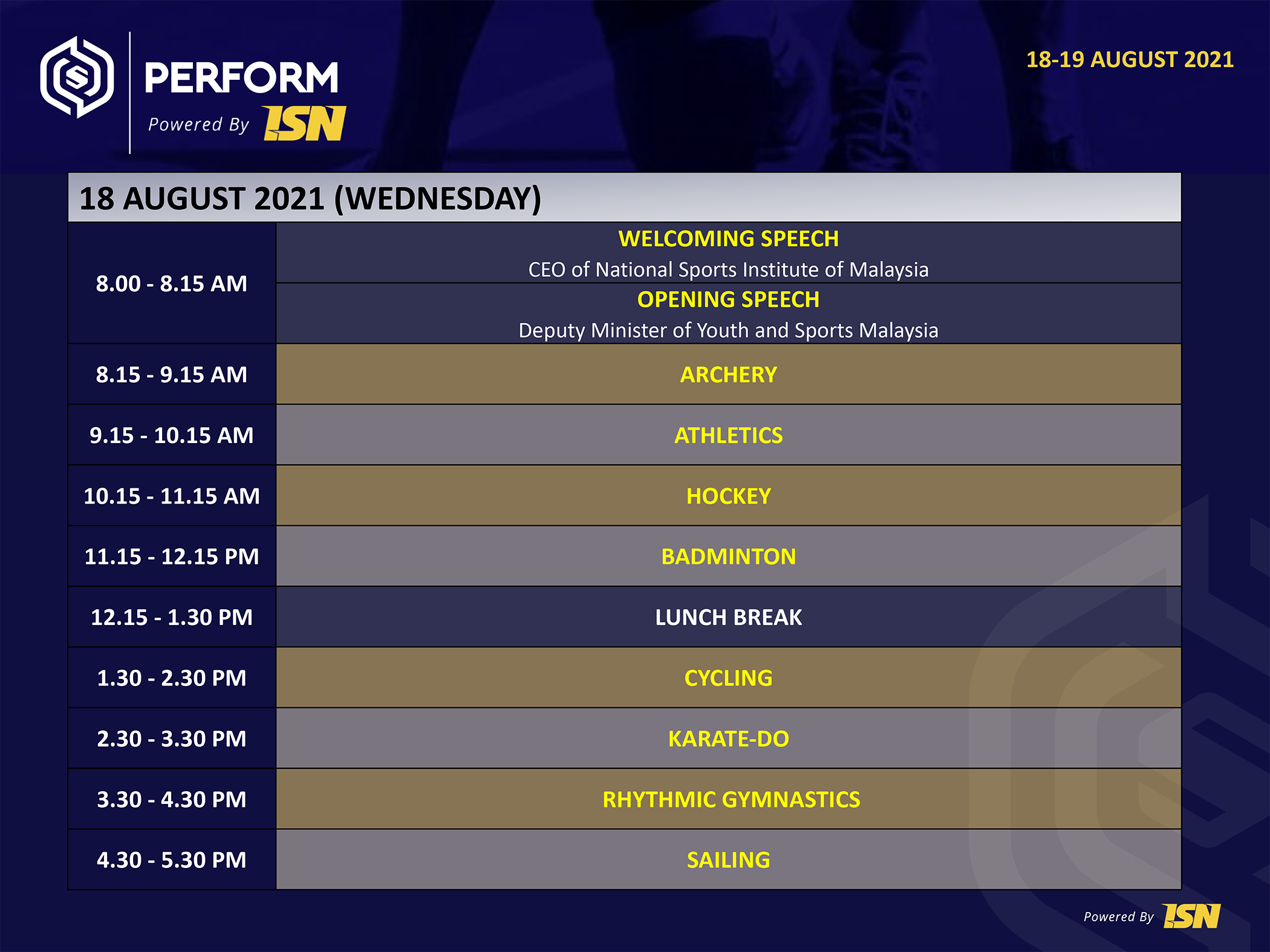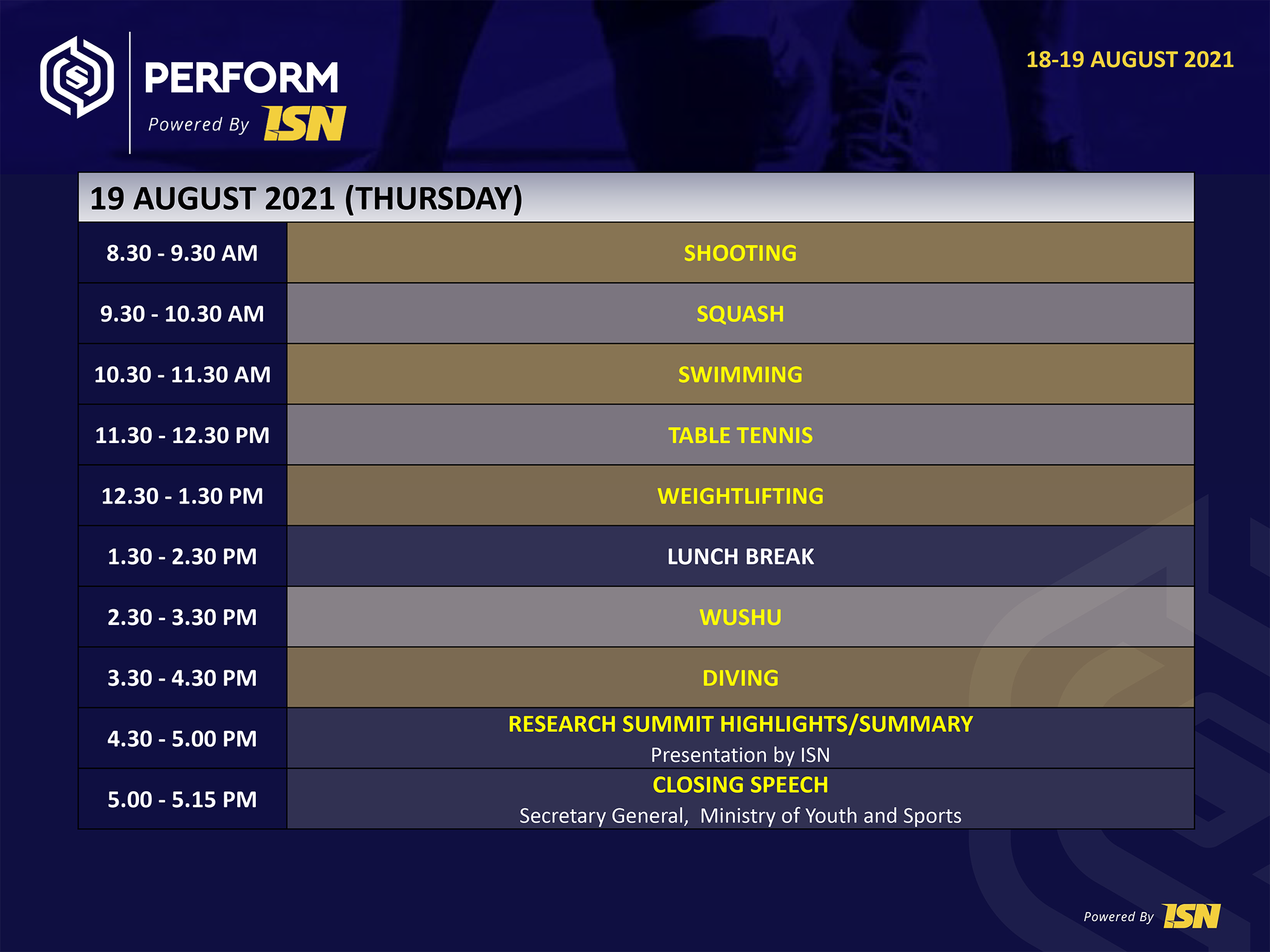 ORGANIZING COMMITTEE
NO
POSITION
NAME

1

Patron

YBrs. En. Ahmad Faedzal bin Md Ramli

2

Advisor

Dr. Thung Jin Seng

3

Chairman

En. Mohamad Faizal bin Lan

4

Deputy Chairman

En. Suresh a/l Marathamuthu

5

Secretary

Pn. Syarifah Fathynah binti Syed Syeikh

6

ICT Technical Committee

En. Muhammad Iqbal Hakim bin Mahmood (Leader)

En. Irwan Shah bin Ab. Latip

En. Musrizal bin Musanin

Pn. Siti Hajar binti Zainul Abidin

En. Mohd Arwi bin Jamaludin

En. Muhammad Junaidi bin Abdul Majid

7

Protocol Committee

En. Mohd Syahrul Nizam bin Mohd Johar (Leader)

Pn. Azean binti Ishak

Pn. Nur Nazrila binti Abdul Kadir

Pn. Asnidar Nor binti Abdul Rahim

Pn. Nurulizzuwana binti Shamsuri

Pn. Nur Fadhliyana binti Mohammad Affandi

8

Promotion & Publicity Committee

En. Mohd Damanhuri bin Mohd Nasir (Leader)

En. Muhamad Syafiq bin Warrmal

En. Abdul Aziz bin Abdul Wahir

En. Zulhilmi bin Mohd Salleh

9

Facilities and Logistics Committee

Pn. Shaheraliza binti Ahmad Zakhan (Leader)

Pn. Faziatun Hanim binti Abdul Manan

Pn. Nor Azura binti Che Ya

En. Ahmad Afizurudin bin Nasruddin

10

Secretariat

ChM. Ts. Dr. Siti Khadijah binti Ab Rahman (Leader)

En. Murshaidi Hazlin bin Mohamad

Pn. Ng Hui Hwa

Pn. Dyg Adlina Sharine binti Abd Abdillah

Pn. Nurhamizah binti Rahmat

Pn. Nuganewary a/p Ramachandran

Pn. Irniza binti Mislat

En. Mohd Zaidi bin Zulghaffar

En. Ramalingam a/l Doraisamy

Pn. Zarimah binti Mohamed

En. Muhammad Zuwairi bin Suhaimi

Pn. Liza Wati binti Ismail
 Scientific Committee
DIVISION

NAME

Sports Performance

 

 

 

Dr. Ahmad Zawawi bin Zakaria

Dr. Viswanath Sundar

Dr. Carl Alexander James

Dr. Timothy John Jones

Dr. Edin Kardin Suwarganda

Sports Medicine

 

 

Dr. Kamarul Hashimy bin Hussein

Dr. Azril Syazwan bin Mohd Ali

Dr. Jasmiza Khuzairi bin Jasme

Pn. Rosnah binti Mat Yatim 

Research & Innovation

 

 

 

 

 

 

Dr. Yeo Wee Kian

Dr. Thung Jin Seng

En. Mohd Nadzrin bin Mohd Hamdan

Ts. Mohamad Fauzi bin Ibrahim

En. Mohd Rizal bin Md. Razali

En. Suresh a/l Marathamuthu

En. Muhammad Ridwan bin Jaafar

En. Chris Tee Chow Li
+ COLLABORATORS
NATIONAL SPORTS ASSOCIATION

UNIVERSITIES

NATIONAL SPORTS COUNCIL
+ CONTACT US
SECRETARIAT EMAIL: [email protected]